Hi,
I notiched that the # of displayed packets is not the same as it should be when you try to export them, please see that screenshot below: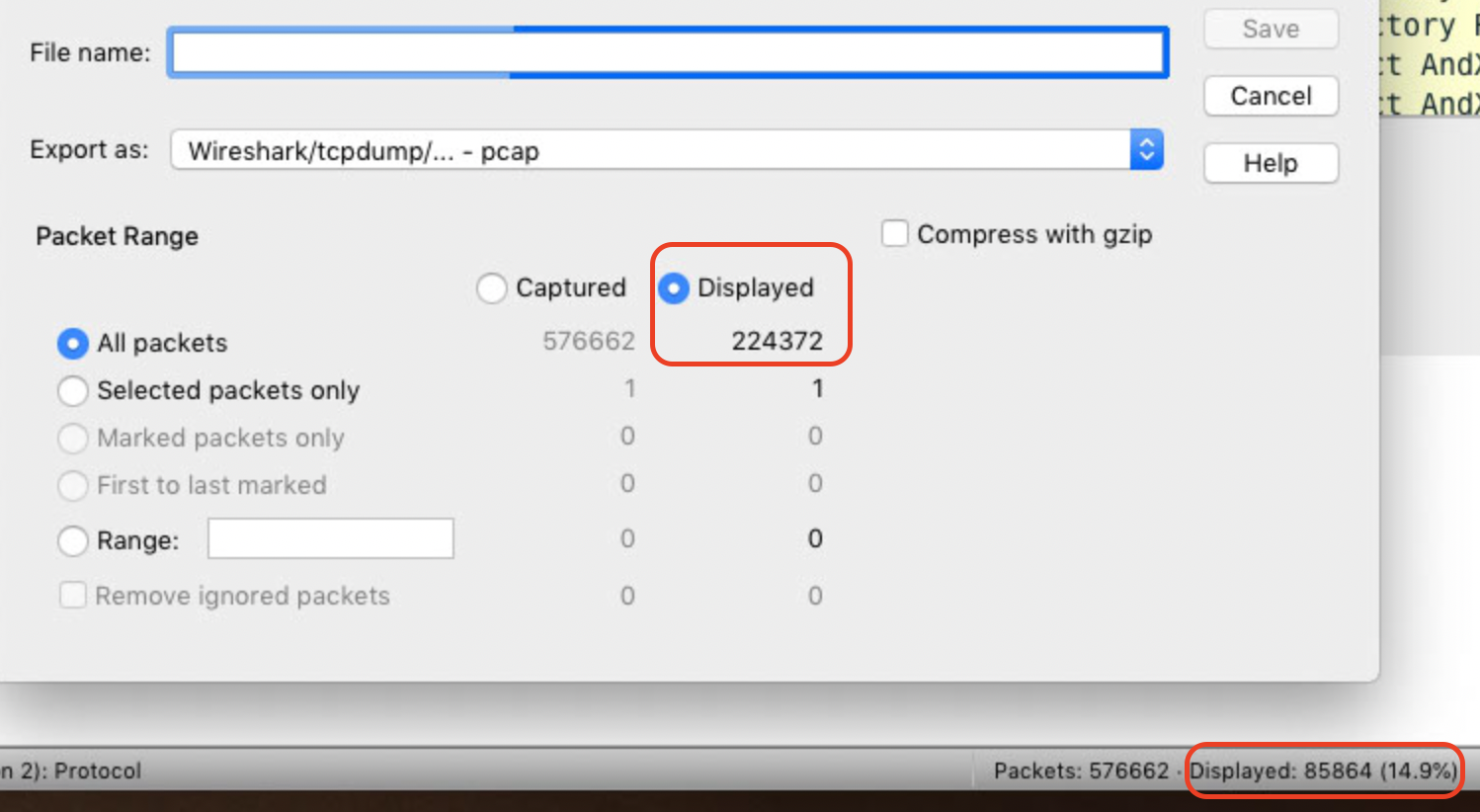 Is it a known isssue? I was using "smb || smb2" as the display filter.
Copyright 1998-2018 Gerald Combs [email protected] and contributors. License GPLv2+: GNU GPL version 2 or later http://www.gnu.org/licenses/old-licenses/gpl-2.0.html This is free software; see the source for copying conditions. There is NO warranty; not even for MERCHANTABILITY or FITNESS FOR A PARTICULAR PURPOSE.
Compiled (64-bit) with libpcap, without POSIX capabilities, with GLib 2.37.6, with zlib 1.2.5, with SMI 0.4.8, with c-ares 1.12.0, with Lua 5.2.4, with GnuTLS 3.4.17, with Gcrypt 1.7.7, with MIT Kerberos, with MaxMind DB resolver, with nghttp2 1.21.0, with LZ4, with Snappy, with libxml2 2.9.4.
Running on Mac OS X 10.14.2, build 18C54 (Darwin 18.2.0), with Intel(R) Core(TM) i7-8850H CPU @ 2.60GHz (with SSE4.2), with 16384 MB of physical memory, with locale C/UTF-8/C/C/C/C, with libpcap version 1.8.1 -- Apple version 79.200.4, with GnuTLS 3.4.17, with Gcrypt 1.7.7, with zlib 1.2.11, binary plugins supported (13 loaded).
Built using llvm-gcc 4.2.1 (Based on Apple Inc. build 5658) (LLVM build 2336.9.00).