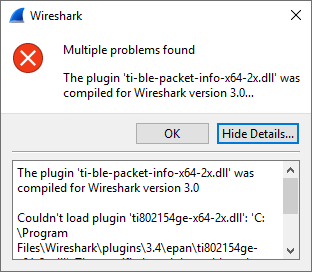 They're pretty set on it being Wireshark 3.0.x for the plugin to work. Tried with 3.4.3 - no luck.
That would explain TI support using 3.0.14 - that's the last release of 3.0.x.
Past releases links: 64-bit 32-bit
Once Wireshark 3.0.x is installed, either re-install the TI tools or follow their steps in Dissector Setup notes to manually copy the DLL files over to the Wireshark.
I was able to open the capture you submitted to TI support and see the RSSI data: